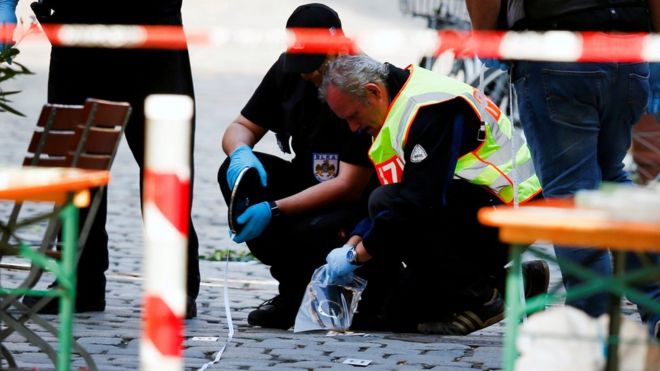 Three Syrian men have been arrested in Germany on suspicion of being sent by so-called Islamic State (IS) to launch attacks, prosecutors say.
The men – aged 17, 18 and 26 – were detained after a series of pre-dawn raids in the states of Schleswig-Holstein and Lower Saxony on Tuesday.
Police are reported to have seized "extensive material".
But no concrete missions or orders had so far been found, the Federal Public Prosecutor's office said.
In a statement, it said investigations so far suggested the three had come to Germany in November 2015 with the intention of "carrying out a previously determined order [from IS] or to await further instructions".
They are said to have travelled through Turkey and Greece on false passports.
'On edge'
Investigators believe the men had volunteered for the alleged mission, and that the 17-year-old had been trained in handling weapons and explosives.
They were arrested when 200 police and security officers raided several premises including three refugee shelters.
Germany is on edge after a spate of attacks over the summer, says the BBC's Jenny Hill in Berlin.
Over one week in July, 10 people were killed and dozens more wounded in separate gun, bomb, axe and machete attacks in the south of the country. Three were in Bavaria and one in Baden-Wuerttemberg.
Asylum-seekers were involved in two of the attacks.
Tuesday's arrests are likely to be welcomed by ministers who are trying to reassure Germans that they can keep the country safe, our correspondent adds.
Please follow and like us: